The Rising Meadow Flocks
Corriedale-
This dual-purpose breed offers a fleece that is prized by handspinners. The crossing of the Merino and Lincoln breeds created a medium fine fiber that is soft yet strong and lustrous with good length. These sheep are medium in size, have gentle dispositions, good mothering instincts, and produce nice fast-growing lambs. Our Corriedale flock contains both white and natural-colored sheep.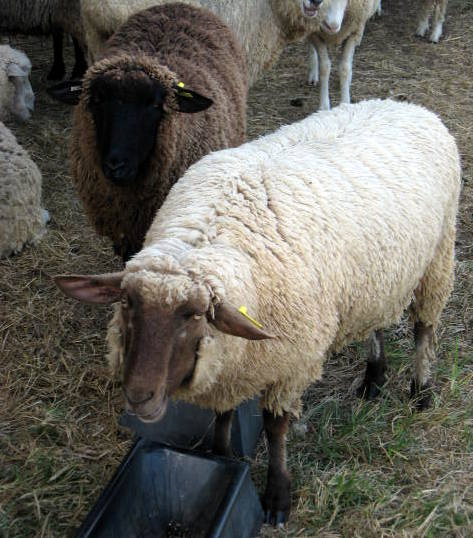 Natural-Colored-
Our sheep range in shades from black to gray with fleeces varying from fine to a long open "Lincoln-like" staple.
Moorit-
Our Corriedale flock has been greatly enhanced by the addition of truly brown sheep. The term Moorit comes from the Icelandic "moorut" meaning as red as the moors". The elusive Moorit brown is recessive to the black and is fairly rare. The brown pigment is "weaker" than the black so very dark browns are more rare than the truly black sheep. A Moorit sheep carries brown wool with brown hair on the face and legs, brown skin and mucous membranes of the mouth. By breeding a Moorit ram to Moorit ewes, Moorit lambs are produced. A Moorit is not a breed of sheep but a sheep whose color is genetically and physically brown. Moorits have fleece colors most commonly referred to as fawn, cinnamon, and chocolate. Formerly the "Decadent Chocolates", our Moorit flock allows us to offer breeding stock and luxuriously soft fleeces in extraordinary colors that are a joy for the handspinner. Several of our white and natural-colored Corriedales are Moorit "carriers"
which means that when bred to a full Moorit 50% of their offspring will be Moorit.
Polled Dorset-
This heavily- muscled breed with it's "downy" fleece is the mainstay of our commercial flock. Not only is the meat superior, the fleece is used to make particularly fine blankets, yarn, mattress pads and comforter batts. These gentle sheep easily produce twins. They are wonderful mothers and can be bred out of season. They tend to have an ample supply of milk, thus were some of the first dairy sheep in this country.
Navajo-Churro-
This rare American breed of sheep is known for the double-layered fleece used by the Navajo Indians in weaving their beautiful rugs.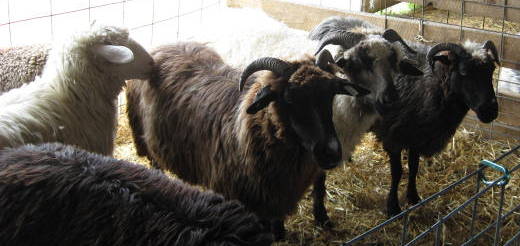 A somewhat smaller size sheep, the Navajo-Churro comes in many colors or combinations of colors. Males and females frequently have horns (two or sometimes four). Their strong mothering instinct and ability to live on fairly poor pasture makes this breed true survivors. Although too small to be thought of as a commercial breed, the Navajo-Churro meat is of such exceptional quality and taste that it that it earned them a place on the Slow Foods Ark of Taste.
CVM Romeldale-
This rarest of breeds is unique to the United States. Out of the Romeldale breed (white and natural-colored) came the CVM (California Variegated Mutant) with its classic badger pattern. Now referred to as a single breed, the CVM Romeldale fleece is very fine in a range of natural colors, a handspinners dream.They are good mothers, medium in size and long-lived.
Rising Meadow Farm Offers:
Breeding Stock-
Each year we offer breeding stock for sale from each of our breed flocks. Most of these animals can be registered. Prices will vary by breed, age and registration.
Sheep Products-
All of the products we sell are available at THE FARM STORE. It is open during all of the events at the farm. For other times we suggest you call ahead.
Lamb-
Raised naturally on pasture, our lambs are bred to be lean. They are raised entirely without growth hormones and antibiotics. Rising Meadow lambs are processed between five and eleven months of age which contributes to a much more delicate flavor in the meat. We offer whole lambs (to be packaged to your specification) and individual cuts. Lamb is available from our booth at the Piedmont Triad Farmer's Market on Saturdays. It is also available at our farm. Our usual season for meat is from August to April.
Fleeces-
Once a year all of our sheep are sheared. (check our Special Events page.) Handspinners are particularly invited to the farm on "Shearing Day". Help is always welcome in skirting fleeces not to mention being able to select a favorite fleece right off the sheep. We offer some wonderful handspinning fleeces from white, Moorit and natural-colored Corriedales, CVM Romeldale, and Navajo-Churro sheep. For people who can't be here on Shearing Day we're happy to reserve a particular fleece or send a sample.
Prices - $5-$15 per lb.
Roving-
For Handspinners or Felters who don't want to work with the raw wool we offer roving. It is available in white and natural-colored Corriedale, several shades of Moorit, and Navajo-Churro.
Yarn-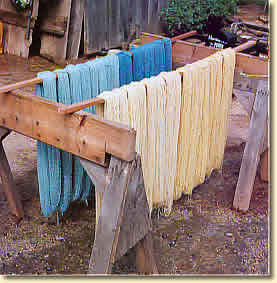 Yarn from Rising Meadow Farm is produced naturally. There are no harsh chemicals or additives used during the washing or spinning process. Chemicals used in scouring wool can cause an itchy or uncomfortable feeling when working with the wool or wearing it. Some of the natural "grease" or lanolin remains in our yarn causing water to be repelled away from the skin and clothing-just the way it works in nature.
Our Corriedale yarn, made only from the wool of our sheep, is available in Fingering weight, Sport weight, and Worsted weight. We carry it, depending on weight, in three natural colors-creamy white, "Moorit" (a medium taupe), and a very dark brown. We offer hand-dyed colors as well in many solid shades and rainbow combinations. Most of our Corriedale yarn is in 4 oz skeins, varying from 230-400 yds per skein. The Merino background in the Corriedale produces a very soft yarn. It is an excellent choice for sweaters, hats, mittens, socks, scarves and afghans.
Our newest yarn offering is MEADOWSPUN, a blend of 70% wool and 30% mohair from our sheep and goats. It is a two ply yarn with approximately 250 yds on a 4 oz skein. We have it in natural white and several hand-dyed colors.
Please contact us for current price information.
Sheepskins-
From time to time we send skins from Corriedale and Navajo-Churro sheep off to be tanned. They have long luxurious fibers and make beautiful throw rugs and chair covers, as well as being used in cribs, and seat covers for cars, motorcycles and wheelchairs. The skins may be white or natural-colored and are washable. Please contact us for availability and price.